An Efficient and Affordable Solution
Over time, concrete surfaces can sink and settle, leading to cracks and uneven surfaces. These issues are not only unsightly but also pose a serious safety risk. Whether it's an indoor shop floor or exterior sidewalk, an uneven concrete surface poses, among other things, a serious trip hazard that can lead to injury and costly litigation.
Replacing concrete surfaces, however, can also be costly – not only in terms of money spent but also in downtime. You don't want your shop closed for several days while the floor is replaced or have the sidewalk leading to your business not accessible to the public. That's why when you have cracks and uneven concrete surfaces, the best and most economically viable solution is concrete leveling. The cost is typically half the cost of replacement and your newly leveled surface can be used within minutes after completion.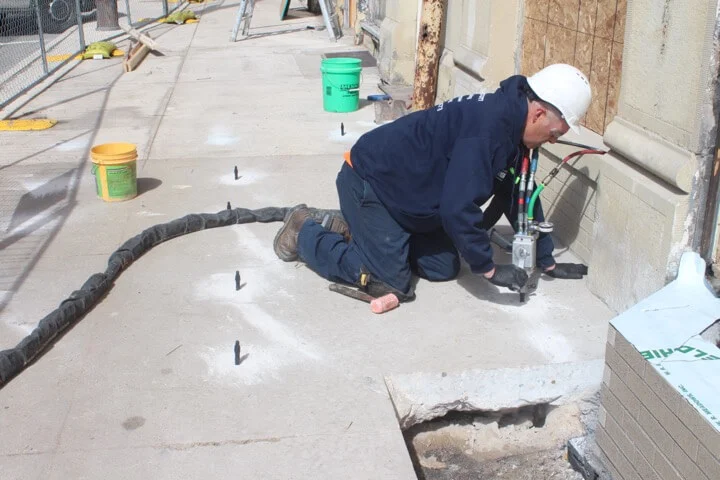 Concrete leveling is the process of filling the voids under concrete, which results in the lifting of the concrete slab. At BK Concrete Leveling we employ a Polyurethane Foam Concrete Raising process because we feel it is a more efficient and environmentally friendly solution than traditional mudjacking.
Visit here to learn more about Polyurethane Foam Concrete Raising.
We are equipped to address cracks and uneven surfaces on a host of both residential and commercial interior and exterior concrete surfaces, including:
Sidewalks
Curbs
Roads
Parking Lots
Stairs
Driveways
Pool Decks
Patios
Interior Floors
Loading Docks
HVAC Pads
Void Filling at Sea Walls
And More!
Contact us below to discuss your project or to request a quote.